Wenger to stay at Arsenal
Wenger to stay at Arsenal.
There is no doubt that Arsene Wenger has been criticised a lot this season for Arsenal's lack of performances, however there are many reasons suggesting that he is going to stay despite Arsenal fans wanting him to go. But these are the reasons why we believe he will stay: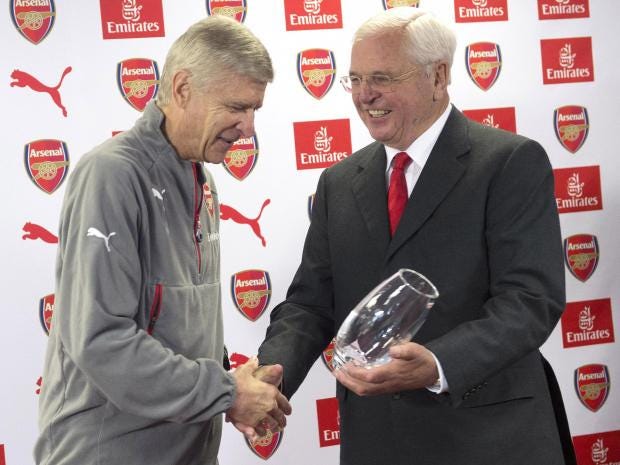 Its not all Wenger's fault for Arsenal's short comings. The Frenchman doesn't have the quality of players that he may like, and this can be due to Arsenals tight budget. They may have bought in the likes of Mustafi, Sanchez and Xhaka, but that's all you can really mention. I believe Arsenal may need a rejig, but Wenger may not be the issue. If Arsenal was too spend more of their money in bringing in quality players that will help the club reach more success rather than spending the money else where. This could tie into the fact that they spent 390 million on a stadium that can hold just over 60,000 fans rather than spending that money on much needed players that could of seen Arsenal still within the top spot of the Premier League.
For a manager that has been so passionate about a club for 20 years, could you really see him not signing a new contract to keep him at the club. He may have lost support of fans but it could be argued that Wenger is Arsenal's biggest fan. This is suggested as the Frenchman had refused many manager roles over the years for the likes of Real Madrid, PSG and many other manager roles.
What could happen is Wenger was to leave?
If Wenger was to leave right this minute, Arseanl will continue to struggle for the rest of this season, of which could have devastating effects on players losing confidence in their selves and the team. This could lead to a long list of players leaving and can reduce the amount of players that can potentially bought in as well as potential managers. Do you truly think that many managers would want to come to Arsenal when fans can turn against you like they have done with Wenger (just note that I understand that a lot of Arsenal fans have respectably protested for Wenger to go, but there have been many that haven't). Also would you want to join a club that has been struggling and a club that wouldn't have a manager for if Wenger is to go, I certainly wouldn't. If that was the case I would prefer to go to the like of Chelsea, Manchester City or Manchester United and so on, which can lead to Arsenal missing out on much needed signings. If a future looks grim at a club you must understand that that isn't a very attractive club to be at. That could also link to many players wanting to leave and of course you can replace them, but as suggested before unless you can produce high wages you may struggle to attract players.
So, Wenger in or Wenger out? Leave your suggestions in the comments!